Delicious
Mexican American Fare

Welcome to Grill Creations!

We offer an assortment of Mexican/American favorites. Do you love tacos, burritos, tostadas and carnitas? Can't get enough guacamole?

We haven't been open long- only since November of 2010- but already people are buzzing about the tasty, healthy fare we serve!

There is not a freezer or fryer to be found here - all of the food we make is healthy and fresh!

We also offer family and office platters-
as well as take-out!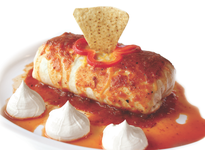 Everyday Menu Promotions
Dine In or Takeout
Chicken Platter
$6.95 - Lunch • $8.95 - Dinner
Carne Asada
$9.95 - Lunch • $12.95 - Dinner
Cannot be combined with other promotions